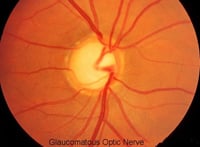 FDA Approves a New, Effective Glaucoma Medicine
The first preservative free prostaglandin ophthalmic solution eye drop medicine used to treat glaucoma has been approved by the U.S. Food and Drug Administration. The new preservative free glaucoma medicine is known as ZIOPTAN™ (tafluprost ophthalmic solution 0.0015%). ZIOPTAN (pronounced zye-OP-tan), distributed by Merck (NYSE: MRK) is approved for reducing elevated intraocular pressure (IOP) in patients with open-angle glaucoma, the most common type of glaucoma.
ZIOPTAN is one of several prescription eye drops in a category called prostaglandin analogs. Other medicines in this glaucoma treatment category include Travatan Z, Lumigan and Xalatan. A prostaglandin analog is typically the first type of medicine prescribed by an eye doctor in the treatment of open angle glaucoma. The significance of Zioptan is that it is the first and only preservative free prostaglandin analog. It is often believed that preservatives in the eye drops can possibly cause side effects that cause problems with the outer ocular surface such as the cornea and conjunctiva.
ZIOPTAN and other Prostaglandin Glaucoma Medicines are Considered the Most Potent Eye Drops for Lowering Intraocular Pressure