Your Eyeglasses Prescription Accuracy is Guaranteed

!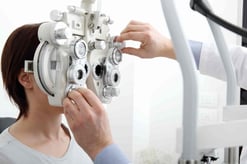 Eye Doctors Guarantee your Optical Prescription Accuracy at Master Eye Associates
Our promise is simple. We guarantee that your prescription for eyeglasses is perfect for you or we will re-evaluate it until it is perfect at no additional exam fee. This is a financial guarantee that you will not be charged unless your optical Rx is accurate for you.
Our Master Eye Doctors evaluate your eyes and optical prescription objectively with the most accurate computerized refractors in the world; and we take painstaking measures using both art and scientific methods to analyze your eyes and eyewear and contact lens prescriptions. Yet despite all of that, sometimes patients are unable to adapt to their new glasses. You can rest assured that if you return with a problem with your new eyeglasses or contacts, within 90 days, you will be greeted with the same friendly smile and attitude as on your first visit and at absolutely no additional charge.
At Master Eye Associates your satisfaction is guaranteed and so is your eyeglasses prescription! We consider it a privilege to care for you!