FDA Approves a New, Effective Glaucoma Medicine
The first preservative free prostaglandin ophthalmic solution eye drop medicine used to treat glaucoma has been approved by the U.S. Food and Drug Administration. The new preservative free glaucoma medicine is known as ZIOPTAN™ (tafluprost ophthalmic solution 0.0015%). ZIOPTAN (pronounced zye-OP-tan), distributed by Merck (NYSE: MRK) is approved for reducing elevated intraocular pressure (IOP) in patients with open-angle glaucoma, the most common type of glaucoma.
ZIOPTAN is one of several prescription eye drops in a category called prostaglandin analogs.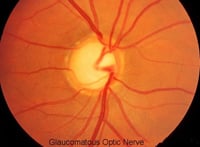 Other medicines in this glaucoma treatment category include Travatan Z, Lumigan and Xalatan. A prostaglandin analog is typically the first type of medicine prescribed by an eye doctor in the treatment of open angle glaucoma. The significance of Zioptan is that it is the first and only preservative free prostaglandin analog. It is often believed that preservatives in the eye drops can possibly cause side effects that cause problems with the outer ocular surface such as the cornea and conjunctiva.
ZIOPTAN and other Prostaglandin Glaucoma Medicines are Considered the Most Potent Eye Drops for Lowering Intraocular Pressure
Prostaglandin eye drops including Zioptan are typically prescribed to be used in the evening in the affected eye using only ONE drop per eye. In fact, prostaglandins may not work as well if more than one drop is used per day. However, it is acceptable to use other types of glaucoma eye drops along with the prostaglandin analog drops.
Because Zioptan is preservative free, the medicine is packaged in individual unit dose vials that are to be used once in each eye and then discarded. Extra vials are to be stored in the refrigerator. Once the vials are removed from the refrigerator they should be used or discarded within 28 days and any amount remaining in a used vial should be discarded because of sterility reasons.
Possible Side Effects of ZIOPTAN
ZIOPTAN may cause serious side effects just like other prostaglandin eye drops including:
Changes in the color of the eye (iris). The iris may become more brown in color while using ZIOPTAN. This color change may not go away if Zioptan is discontinued. If ZIOPTAN is used in one eye only, the color of that eye may always be a different color from the color of the other eye. The long term effects of increased pigmentation are not known. Iris color change may not be noticeable for several months to years. Typically, the brown pigmentation around the pupil spreads concentrically towards the periphery of the iris.
Darkening of the color of the skin around the eye (eyelid). These skin changes often go away when ZIOPTAN is discontinued.
•Increasing the length, thickness, color, or number of eyelashes. These eyelash changes usually go away when you stop using ZIOPTAN. This is the effect that is caused by Latisse, which is used to thicken and lengthen eyelashes when the medicine is applied directly to the eyelashes. Latisse is the same medicine as the glaucoma drug, Lumigan .03%.
The most common side effect of ZIOPTAN is redness of the conjunctiva (clear tissue covering the white of the eye), which occurred in 4-20% of patients. Other ocular adverse reactions reported at an incidence of ≥2% in these clinical studies included:
ocular stinging/irritation (7%)
ocular itching including allergic conjunctivitis (5%)
cataract (3%)
dry eye (3%)
ocular pain (3%)
eyelash darkening (2%)
growth of eyelashes (2%)
blurred vision (2%)
Other adverse reactions in the clinical studies in patients treated with Zioptan (tafluprost 0.0015%) were headache (6%), common cold (4%), and cough (3%).
These side effects are very similar to the side effects of other eye drop medicines in the prostaglandin category.